Things That Make You Go Hmmm
WHEN DID SHE DIE?
Here's a quandry for you. As is quite obvious by the photo below, Mary Ann Gregory Denning died in September of 1899.
Or did she? Below, you will find a section of the 1900 Federal Census for Grove District, Harnett County, NC. The date of the Census is June 7, 1900. Now, here's the "Hmmm". Mary Ann Gregory Denning is listed as living in the household of her daughter Sarah and son-in-law Wyatt H. Wiggins. Now I ask you...How can that be?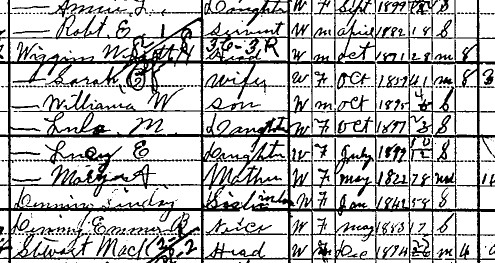 Wyatt's mother was also named Mary but this could not be her as she was born in 1846, making her more than 20 years younger than Mary Ann Gregory Denning, and her middle initial was "E".
So, you tell me...when did my Great-Great-Great-Grandmother die??
---
THE MYSTERY OF HIRAM PRESTON HOLMES
The death certificate for Hiram Preston Holmes lists his parents as John & Sarah Wilkes Holmes. Sarah's death certificate lists the birth and death dates noted here however there are two listings for her on the Gambrell's Harnett County cemeteries site from Bethsaida Primitive Baptist Church Cemetery. The second listing has a much later birth year (1886) but the correct death date and lists her as the wife of M. Preston Holmes. There is no listing for M. Preston Holmes at the cemetery but both John and Amelia Holmes are listed there and Amelia's stone says she was the wife of John Holmes.
The 1900 Federal Census lists both Sarah and H. Preston Wilkes as lodgers in the household of John & Melia Holmes. Sarah's age coincides with the birth date listed here which discounts the second listing for Bethsaida. Sarah is listed as single, not widowed. The census shows that no children were born to Melia Holmes and that she and John had been married for 30 years.
The 1910 Federal Census shows both Sarah and Preston Wilkes still living in the household of John & Melia Holmes. Sarah is listed as a servant and her marital status is still listed as single. Preston is listed as a boarder and his occupation is listed as a farmer.
The 1920 Federal Census shows Preston Holmes married to Lou Emma Stewart. They were married in 1915. The question is, When did Preston go from being Preston Wilkes to being Preston Holmes? His marriage certificate lists him as Holmes as well. The 1920 Census also shows John & Melia Holmes still in the same household however, Sarah Wilkes is not listed there. She is listed as living in Preston's household and is shown as his mother. Her marital status is now listed as widowed.
Melia Holmes died on 9/18/1920. John married Sarah Wilkes in Harnett County on 12/22/1920.
The 1930 Federal Census shows John & Sarah living together in Harnett County. John is 89 and Sarah is 70 years old. The Census lists Sarah's age at her first marriage as 60. John's age at his first marriage is listed as 23.
John died on 7/29/1930. His death certificate lists him as married to Sarah Holmes. Preston Holmes was the informant. Sarah died on 7/13/1951. Her death certificate lists her as widowed. Again, Preston Holmes was the informant.